The Foundation seeks to promote the understanding of national and international social issues through media such as film, television, music, and literature, domestic and worldwide, with content generally revolving around moral, religious, scientific, and/or ethical themes. Projects will examine relevant issues in our society and stimulate education, exploration, discovery, and understanding, through material that is insightful, honest, authentic, and entertaining. By encouraging understanding and betterment, society will benefit as a whole.
The Foundation: Encouraging understanding and betterment; benefiting society as a whole.
Current Film Campaigns:
Our current project is supporting a new and powerful motion picture To End All Wars starring Kiefer Sutherland and Robert Carlyle. A $14 million dollar feature film being scheduled for a major release by GMT Pictures in the spring of 2003 with a story line set in a POW camp in Burma during the Second World War.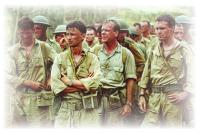 To End All Wars is a powerful true story that effectively presents many painful issues plaguing our society while providing lasting and critical answers in a realistic way. Issues include selfish ambition, hatred and violence balanced with sacrifice, forgiveness and reconciliation. In every screening I have attended, the majority of each audience has left the theater reeling with emotion. One man recently exclaimed while leaving the ArcLight Theater in Hollywood that "I haven't cried that hard in two decades". Another said "I will be thinking about the film and its story for years".
Tweaked:
The "Tweaked" film project continues to be a success and we appreciate many of you who have supported our efforts in that endeavor. Our dedicated website, EscapeMeth.com continues to receive thousands of hits per day. The DVD's are being used in the U.S. and Canada by members of law enforcement and others seeking to combat our country's growing addiction to Methamphetamine
The Klamath River Project:
Coho salmon, an endangered species. Chinook salmon, diminishing numbers. Political fighting to possibly remove 4 dams. Water quality. Water usage rights. Ancestral/cultural tribal rights and needs. People's livelihoods and societal needs for farming, ranching, timber and commercial fishing. And, the privileges of personal enjoyment of nature, swimming, rafting and fishing. What connects all of these issues? The Klamath River.
This project will educate through photographs and words on the positive things being done to help the salmon in their runs each year to ancient spawning grounds, and to keep water quality clean and water flowing. This project will be documenting people who are working to make a positive difference in the Klamath bio-region Stories Behind the Salmon

Contact us:

THE FOUNDATION
Established 1998
5751 Buckingham Parkway
Culver City, CA 90230
310-649-3000 /310-216-0056 Fax
Frank Di Pasquale -Trustee